Gain Industry Insights on Distilling Spirits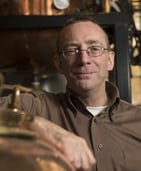 In this webinar, you will hear new insights on the fast-growing craft spirits market from Oregon State University professor Paul Hughes. As one of the world's leading experts on distilled spirits, Paul leads Oregon State's distilling program and will host two upcoming workshops focused on distilled spirits and related business opportunities.
This webinar is great for aspiring distillery entrepreneurs, distillery employees, restaurant professionals - or anyone interested in fine bourbons, whiskeys, vodkas, tequilas and more.
About This Webinar on Distilled Spirits:
In this exclusive webinar on distilled spirits, you will:
Gain a new understanding of various distilled spirits including whiskeys, bourbons, tequilas, mezcals, vodkas, gins, fruit-based spirits and liqueurs.

Learn about career and business opportunities in the distilled spirits industry.
Have the opportunity to ask Paul questions about distilled spirits, career/business opportunities and more.
You will also see a sneak peek into Paul's upcoming workshops (open to all)
If you have interest in distilled spirits, we encourage you to join us!
Webinar Host:
After gaining his doctorate in chemistry from the University of London, Paul Hughes moved into the brewing research sector in 1990. After spells as an industry-sponsored research scientist and principal scientist with Heineken International, Paul moved to Heriot-Watt University in 2005 as Professor of Brewing and Distilling and director of the International Centre for Brewing and Distilling.
Paul joined Oregon State University to establish a dedicated distilled spirits program. Paul holds a Master of Business Administration with a specialism in innovation and he teaches, trains and consults internationally. He has co-authored two textbooks (one on beer, one on whisky), more than 60 peer-reviewed and conference papers and has been granted four patents.
This webinar is brought to you in collaboration with Oregon State University's College of Agricultural Sciences.