Benefits of Online Learning
Oregon State University has offered distance education since 1889, bringing educational opportunities to learners outside the Corvallis campus for over a hundred years.
Today the technology has changed, but the tradition remains the same.
Oregon State's online professional and continuing education programs utilize the best elements of traditional classrooms with rich teacher and peer interactions. Just like in on-campus classes, you can ask questions, share notes and make plans to study with classmates. The biggest difference is that you have the convenience and flexibility to choose when and where you attend. And since these courses are non-credit, you can start at multiple points throughout the year and build skills in weeks.
Some of the Benefits of Online Courses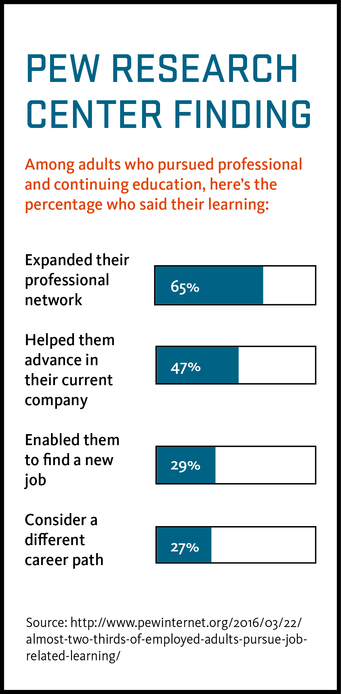 KEEP YOUR SCHEDULE. Online courses let you keep your schedule just the way you want. Our courses are "asynchronous," meaning there's no designated time to log in. If your course has weekly assignments, you choose the best day to work and fit into your busy schedule.

LEARN AT YOUR OWN PACE. With the freedom to control how you learn best, you're in charge of how fast or slow you complete each project. That also means you choose when you're most alert and motivated to learn. So, whether you're a night owl or an early bird, you set your own schedule.

ENGAGE WITH PEERS. It seems a bit counterintuitive, but online courses can have more class participation and interaction than in-person classes. Every student has the opportunity to add their thoughts and ideas to the conversation, which adds to the depth and richness of the discussion.


SAVE MONEY. The potential savings from online professional and continuing education classes can be substantial. By eliminating the costs of commuting, you could save on parking, gas, vehicle maintenance and even bus fare. Since you choose your schedule, you'll also avoid missing work and possible lost wages.


IMPROVE SKILLS. Since online courses require writing to interact, they can be a great way to improve your writing skills as you communicate your thoughts and work on projects. In addition, you'll build technical skills and proficiency as you utilize and navigate the latest in online learning technologies.


ENJOY MORE DIVERSITY. Free from geographical limitations, you can enjoy discussions and points of view from classmates who live around the world. This global view can help give a broader perspective and insight that adds to the richness of your learning.
To get started with online learning and take the next step, check out our full list of professional development courses and certificates.
What Past Students Thought About OSU's Continuing Education Courses